Apptorney IP
Apptorney: IP is designed to compile the web resources used by Intellectual Property professionals into one easy to use and navigate application. Search, file or monitor the status of a trademark or patent; review relevant statutes; and keep up with popular IP Blogs. Apptorney:IP contains hundreds of organized links to USPTO pages, patent and trademark search pages, state and international IP resources, and statutes.


In re Bilski
This Omnilaw app helps you work through the flowchart to test your patent claims for subject matter eligibility under these interim examination instructions.
C.F.R. Title 37: Patents, Trademarks, and Copyrights
C.F.R. Title 37: Patents, Trademarks and Copyrights, on your iPhone,
iPad, or iPod Touch.
Lanham
The Lanham Act is the portion of 15 USC that defines federal trademark law. This application allows you to access the Lanham Act in an easy-to-browse, fully-searchable, format, without the need for a network connection.
Patent Local Rules (N.D. Cal. 2008)
This is an easy-to-browse version of the Patent Local Rules for the Northern District of California.
Patent Rules
This application allows you to browse the Patent Local Rules for five federal judicial districts with your iPhone or iPod Touch. No network connection is required, but if you are connected you can mail any rule or subsection using your device's built-in email application.
Patents
This application is intended for patent attorneys, particularly litigators. It allows you to use your device's internet connection to efficiently retrieve United States utility patent information, particularly claims, title, inventors, and priority information, if you already know the patent number. Patents can be bookmarked and associated with matter names and numbers, and an editable history of patent numbers is maintained. You can also launch Safari to view the full-text of the specification on the USPTO's website, or email the claims using the device's mail application.
PCT
As patent attorneys and patent agents are aware, the Patent Cooperation Treaty is an important resource in patent prosecution practice.
Title 17
Now you can access the federal copyright code, without a network connection, right from your iPhone or iPod Touch. 17 USC is the federal code that defines copyright law, including mask protection, the DMCA, etc. This version includes recent updates promulgated in 122 STAT.
Title 35
35 USC, or Title 35, is the code section that contains the federal patent laws. A useful resource for patent litigators and other lawyers, as well as law students, this application allows you to browse and search the patent laws without requiring a network connection.
U.S.C. Title 17: Copyrights
U.S.C. Title 17: Copyrights, on your iPhone, iPad, or iPod Touch.
U.S.C. Title 35: Patents
U.S.C. Title 35: Patents, on your iPhone, iPad, or iPod Touch.
Patent Finder
With Patent Finder™, you can search the United States Patent and Trademark Office (USPTO) database for issued patents and patent applications. Patent Finder conducts its search using the USPTO website and presents you with results in a friendly format.
Legal Edge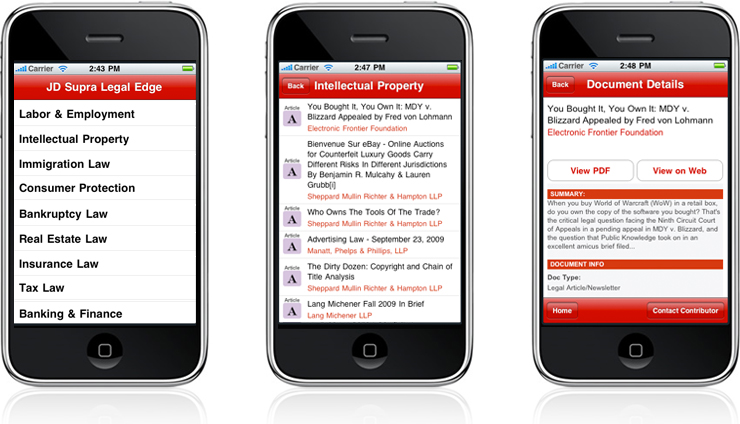 Stay on top of the latest legal developments that matter to you with updates, news alerts, and case filings from the nation's legal professionals.
Article One Partners
View current preview and active patent studies. Keep up with the worldwide patent research community in our discussions. Learn the latest trends in the Patent Quality Review Blog and AOP patent related tweets on Twitter. A useful tool for patent quality researchers.